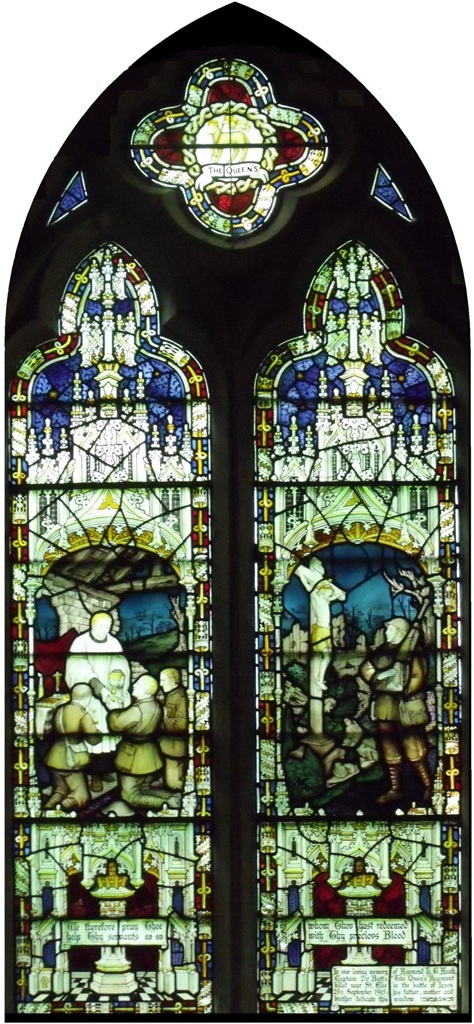 The memorial window at the west end of the church commemorates Captain Raymond Leopold Greig Heath of D Company, 2nd Battalion, The Queen's Royal West Surrey Regiment
Captain Heath was killed in action leading his men at the Battle of Loos near Cite St. Elie on 25th September 1915. He was only thirty years old. He had already been seriously wounded in 1914 but returned to action in France after only three months. He was the son of Arthur Raymond Heath and Flora Jean Baxter of Kitlands, a nephew of Cuthbert Eden Heath and grandson of Admiral Sir Leopold Heath of Anstie Grange.
The window was commissioned by Captain Heath's family from C E Kempe and Co and installed in 1923, details of which can be found at the Victoria and Albert Museum archive. The subject of the window is the Celebration of Holy Communion on the Battlefield of France. The badge of Captain Heath's regiment appears in the tracery.
Charles Eamer Kempe was a distinguished designer of stained glass in churches and cathedrals nationwide including York Minster, Chester, Wells, Winchester and Hereford. His secular commissions included work at Wightwick Manor, Wolverhampton, now owned by the National Trust, and Temple Newsam near Leeds. There are memorials to Kempe in Chichester and Southwark Cathedrals.
This window has a characteristic Kempe landscape background reminiscent of 15th and 16th century Flemish and German glass from which Kempe took inspiration. The colours are rich and faces typically soft and expressive. The window is signed with Kempe's single wheatsheaf, or golden garb, enclosing a black tower which was added by distant relative and partner Walter Ernest Tower who inherited the company on Kempe's death in 1907.